Our General Gymnastics Camps
Our General Gymnastics Camps are open to all boys and girls of school age (4 to 13)
Our camps are currently 3 hours in length – with time included for a short snack break
Camps are fun, active and energetic; led by our experienced team of Artistic, General and Acrobatic gymnastics coaches
Gymnasts will get to experience our wide range of equipment; from beam and bars, to fast track and vault – playing games and tackling challenges to improve their skills and learn new ones!
Our Advanced Skills Workshops
These workshops run alongside our General Gymnastics Camps, and are open to our more advanced groups & gymnasts within the GfA programme
Each workshop has a focus; helping all gymnasts to progress towards more advanced skills or apparatus targets
Our Skills Workshops generally run once per week during the school holidays, and invitations are sent out to specific groups via email, then bookings are made through our Class4Kids booking system.
Book HALF-DAY HOLIDAY campS.
Book FULL-DAY HOLIDAY campS.
SUMMER GYMNASTICS EXPERIENCES 2022
Join us for some unique new experiences for all ages and abilities this summer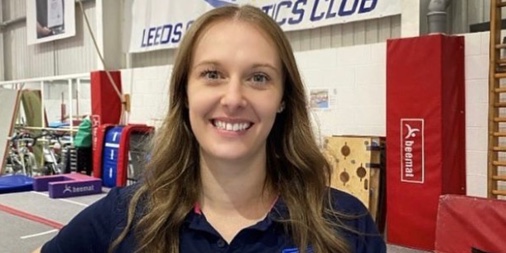 Friday 12 th August 11:30am-12:30pm
Open to all school-age children
Come and join us for a brand new 1-hour choreography dance workshop with our Lead Dance
Choreographer
Kate choregraphs the floor routines for our Women's Artistic section and these unique and entertaining
routines have been recognised nationally. So come down and join us for 1-hour of fun and learn a new
dance routine, you can even bring your friends along as no gymnastics experience is required.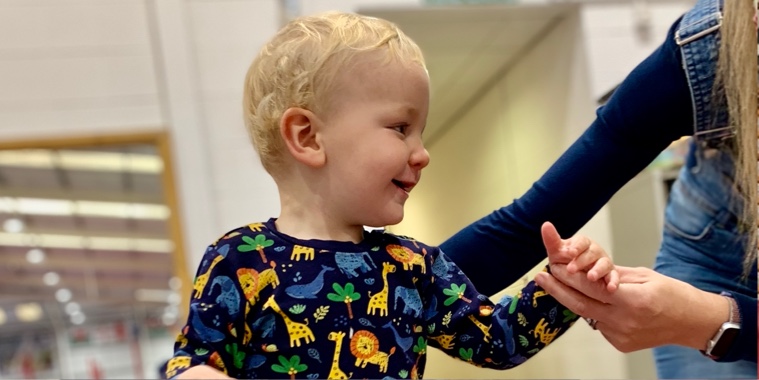 Friday 12 th August 10-11:30am
Open to all parents & children of school-age
Tandem Training: the return of our special family gymnastics session!
During Tandem Training parents & children come into the gym together. They will have separate sessions running parallel to each other; where coaches will take both on an adventure around the gym. Everyone will have the opportunity to learn new skills, experience the different apparatus we have to offer, and finally do some flips into our foam pit. Afterward, the two classes will join to finish off our session with some time for families to show each other what they have been learning.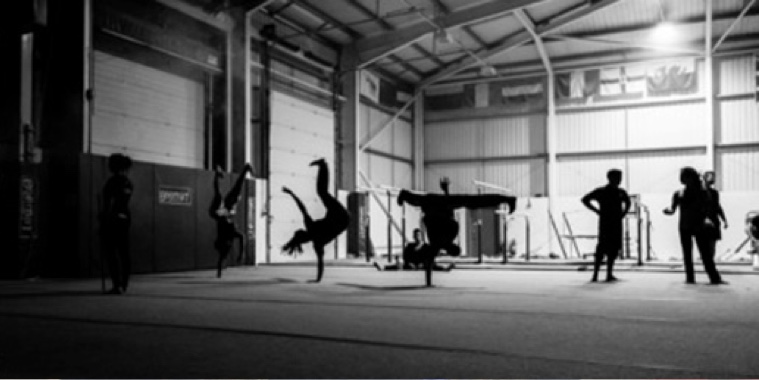 Friday 26 th August 11:30am-1pm
Age 7+
This session is aimed at combining elements of parkour, freestyle, gymnastics and martial arts into one workshop within a safe environment for both boys and girls. Running up a vertical wall, leaping over blocks, diving and rolls are just a handful of things your child can learn during our freestyle workshop.
All daredevils welcome!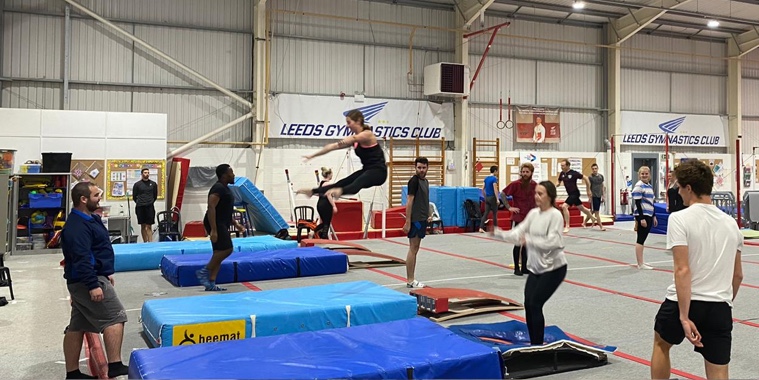 Age 16+
Have you ever thought about giving gymnastics a go but don't know where to start? We have two fantastic
gymnastics experiences coming up this summer just for adults
Adults: Intro to Gymnastics
Friday 19 th August 10-11:30am
During this session you'll be introduced to foundation gymnastics, learn skills on the apparatus, and finish off by learning some flips and tricks. No prior experience is necessary; our coaches are on hand to make sure you have a fantastic gymnastics experience.
Adults: Skills Workshop
Friday 26 th August 10-11:30
During this session you will go through the steps in mastering a handstand and forward/backward
somersault! Our session is tailored to individual abilities, and our coaches work closely with all participants to make sure everyone is having fun and making progress. Our Adults workshops are perfect for anyone who wants to try something new and challenge themselves this summer.
Our safety considerations: COVID-secure holiday camps
We take the health & safety of everyone at Leeds Gymnastics Club very seriously, and we are maintaining a number of our safety procedures to make sure everyone feels happy and safe when they attend our Holiday Camps
On arrival, all gymnasts enter through our car park Fire Exit, and leave through our main entrance
Once gymnasts have entered the building, parents & carers are welcome to enter through our main entrance and watch the session from our upstairs viewing area
Children will sanitise their hands on arrival
In line with the latest government guidelines, coaches can now physically support gymnasts throughout the sessions, and may only do so wearing masks through personal choice.
What should I bring with me?
Gymnasts should bring plenty to drink. There will be time during the camp for something small to eat, so children can also bring a healthy snack if needed. We also have a coffee and vending machine in our upstairs viewing area.
What should I wear?
T-shirts, shorts & leggings are all absolutely fine. Leotards are welcome if you have one, but they aren't essential. Hair should be tied back and earrings removed before the sessions.
Please ensure that children are wearing footwear that is easy to slip on and off, as we will not be able to assist with untying shoelaces etc.
Dropping off and picking up
Please see our safety video on the return page for a full illustration of our new arrival and departure system.
Dropping off
We ask that gymnasts arrive 5 – 10 minutes before the camp starts, and park in our large car park at the rear of the building. Just before the start of the sessions, gymnasts will enter through our car park Fire Exit. Parents can then enter through our main entrance and head up to our viewing area.
Picking up
You are welcome to wait in our car park throughout the camp session if you wish to. All gymnasts will you outside our Main Entrance at the end of the camp to maintain a one-way system where necessary.
BOOKING
Please use the above form to book camps through our new database; Class4Kids. If you are having technical difficulties with the website, please call us on 0113 265 6662 and we will try to assist you. Please be aware that we may still be operating a reduced admin service throughout the summer holidays.
COST
£15 per day (2hour session)
Cancellations
We need 48 hours notice to cancel your place. There is no refund for unplanned absence including illness. You may however, swap your day(s) if available.
What people say about Leeds Gymnastics Holiday Camps
Q – Why did you choose to book your children into our holiday camp?"
A – "Our children have always had a wonderful time. I think the coaching and facilities are of a very high quality"
A – "Gymnastics is my daughter's favourite sport, and she has always enjoyed previous camps at this club"
Q – What did your children enjoy about our camp?
A – "They loved the large variety of equipment and apparatus, and great coaches too!"
A – "My son loved the obstacle course challenge on the final day; climbing up the mountain and sliding into the pit! My daughter loved the handstand and cartwheel competitions."
Q – Do you think the Gymnastics for All programme has any particular strengths?
A – "The Club is superbly run. The coaches are extremely professional and the training is of an excellent standard."
A – "The quality of coaching is good and has definitely improved my daughter's development and progression, as well as her being super motivated to come!"
A – "The coaches are fab; firm but fair! Sessions are always organised and varied. My girls love it!"
"Great summer camp which my daughter loved. Thanks to all at Leeds Gymnastics Club."
*****
A. Banks
Facebook review
"Brilliant supportive club! Inspiring generations of young children. Keep up the good work."
*****
V. W. Crosby
Facebook review
"My little girl came today for the holiday camp. She came out buzzing, she thought Ryan was the 'bees knees' and asked when she was going back. Hopefully we will get her a place at some point. Thanks for a great day guys xx"
*****
E. Asprey
Facebook review
CALL
0113 265 66 62
Office opening times
MONDAY - FRIDAY
9am - 2pm & 4pm - 6pm
SATURDAYS
9am - 4pm
SUNDAYS
Closed




Notice of Non-Affiliation and Disclaimer
We are not affiliated, associated, authorised, endorsed by, or in any way officially connected with City of Leeds Trampoline & Tumbling Club or Leeds Rebound Gymnastics Club ( in association with City of Leeds Trampoline & Tumbling Club).