Fun and energetic gymnastics sessions for children of school age; covering skills & techniques on floor, vault, beam, trampoline, bars and fast-track
WORK TOWARD BADGES
British Gymnastics recognised
proficiency awards
ACHIEVE CERTIFICATES
Leeds Gymnastics participation certificates and regular parental feedback
ANNUAL DISPLAYS
Opportunity for gymnasts to show off their talent to friends and family
–
Our General Gymnastics programme is for all school-aged children wanting to learn a variety of gymnastics skills in a safe, fun and friendly environment. Our coaches are supportive and encourage every child to be confident, brave, patient and always do their best to develop new skills across every piece of apparatus at our club.
–
Throughout the year, gymnasts will learn new skills and routines, and work towards the British Gymnastics Proficiency Badges. Gymnasts will also have the opportunity to display their talents for an audience at least twice per year; at Leeds GymFest (held at the First Direct Arena), and our Gymnastics for All Competition – held at Leeds Gymnastics Club.
Classes run from Monday – Saturday
Our Gymnastics for All programme is structured to offer challenging classes for children of all abilities. Along with our 1-hour classes, we also have a range of longer General and Artistic Proficiency classes on offer for children aged 6 – 11. Places in these groups are offered to gymnasts who progress quickly in our 1-hour classes, and our coaches will decide whether they are suited to a more advanced General or Artistic setting.
If you have any questions regarding our programme structure, our staff, coaches and Gymnastics for All Manager Oli are more than happy to answer your queries.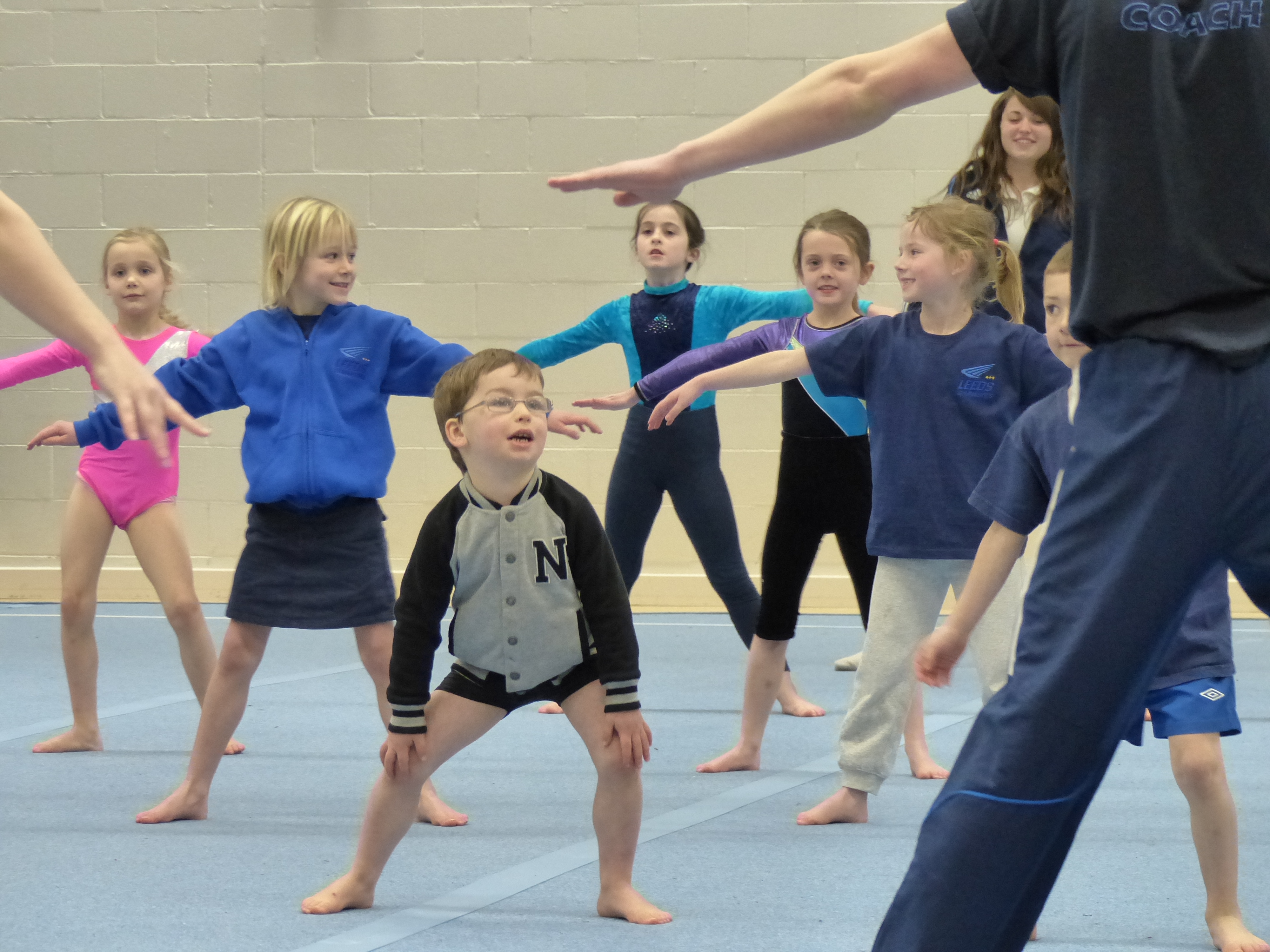 1-hour General Gymnastics
Our General Gymnastics 1-hour classes provides an ideal introduction to gymnastics for ages 4-9, and children learn skills and use equipment based on a blend of Women's Artistic, Men's Artistic and Acrobatic gymnastics disciplines.
Each week, gymnasts will engage in different activities all over the gym; utilising our floor, vault, bars, beam, trampoline, beam, fast-track and strength & conditioning apparatus stations. Sessions follow our weekly key focuses to give every child a balanced experience of General Gymnastics, and the chance to find their favourite or strongest set of skills.
Gymnasts all take part in a whole-group warm-up and stretch together to begin each session, before dividing into age-based groups with their coach, and completing 3 apparatus stations based on rebound, rotation, support on hands, balance and games week.
General Gymnastics Proficiency
Our General Gymnastics Proficiency classes are for those gymnasts who the coaching team believe would benefit from a longer weekly session; allowing them to further develop their strength and skill across the General Gymnastics apparatus. These are 90-minute mixed-gender classes, and gymnasts are invited to join them from both Key Stage 1 and Key Stage 2 at school.
MyGym
When gymnasts in our 1-hour classes enter Upper Key Stage 2 at school, they join our specially created MyGym groups. These classes are a natural progression for our older gymnasts to enjoy in their own year groups, with an emphasis on providing a wider range of gymnastic activities to choose from. The 90-minute MyGym classes are coached by a range of staff with expertise in Artistic, Tumbling, Acrobatic and Freestyle gymnastics; making each week a different experience for children in Year 5 & 6.
Men's & Women's Artistic Proficiency
Places in our 2-hour Artistic Proficiency classes are offered to gymnasts in General Gymnastics classes who we believe would benefit from developing their skills in a more specialised discipline. Each group is for gymnasts aged 6 – 11, and focuses on the skills and apparatus necessary for Artistic gymnastics. Gymnasts in these groups are also eligible to compete in local external competitions throughout the year.
General Gymnastics at Leeds Gymnastics Club
CLASS TIMES
Monday to Friday
Key Stage 1 (Reception, Year 1, Year 2): 4.30 – 5.30pm
Key Stage 2 (Year 3 & 4 only): 5.30 – 6.30pm
Saturday
Key Stage 1: 8.30 – 9.30am & 11am – 12pm
Key Stage 2: 9.45 – 10.45am & 12.15 – 1.15pm
MyGym Year 5: 1.30 – 3pm & 2.30 – 4pm
MyGym Year 6: 3 – 4.30pm




Notice of Non-Affiliation and Disclaimer
We are not affiliated, associated, authorised, endorsed by, or in any way officially connected with City of Leeds Trampoline & Tumbling Club or Leeds Rebound Gymnastics Club ( in association with City of Leeds Trampoline & Tumbling Club).